"Take a Compliment" Open Mic
November 20, 2019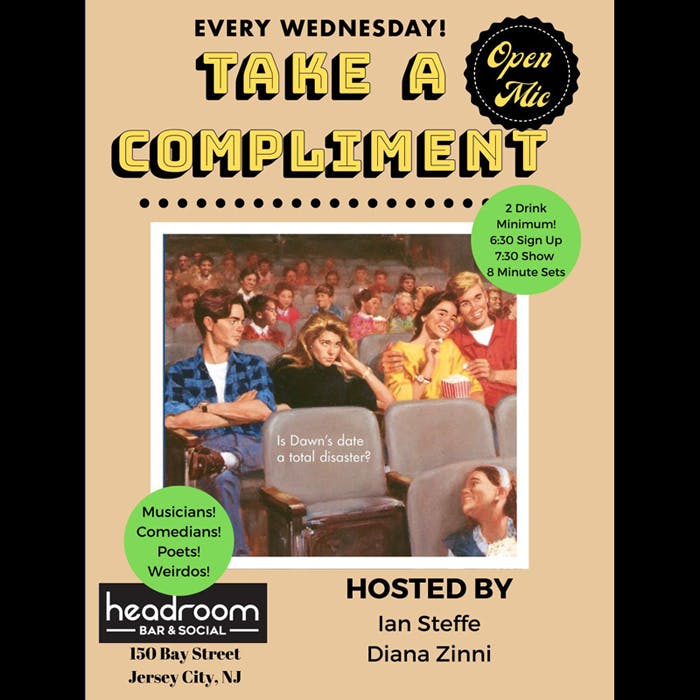 "TAKE A COMPLIMENT" Open Mic
Every Wednesday at Headroom!
Tickets: https://www.eventbrite.com/e/take-a-compliment-jersey-city-open-mic-tickets-74289011433
• Musicians
• Comedians
• Poets
• Weirdos!
Notes from the producers:
"Sign up at 6:30 sharp! Show starts at 7:30. You must be present to get a slot. 8 minute sets. We'll probably go until 12:30am. We kindly ask that you buy some drinks and/or the fabulous grilled cheese (It's A+). An effort to witness each other's expressions and to receive praise without shuddering/dying. Your own personal Copa f*cking Cabana/Vegas experience right here. All artists are welcome: singer-songwriters, bands (full backline), rappers, comedians, poets, etc. There's a PIANO! Drummers, sometimes we have house cymbals, but safe to bring your own, k?"
What you need to know:
• Sign-up: 6:30 PM
• Show: 7:30 PM
• 8 minute sets (musicians, comedians, poets, all y'all!)
• 2 drink minimum (help us get invited back to this gorgeous venue!)
• There is a piano and full backline! IG @dianazinni w/ questions
• We also won't mind if you wear glitter.
Headroom Bar & Social
150 Bay Street, Jersey City, NJ 07302
[5 minute walk from Grove St. Path; 2 stop Path ride from Manhattan]
Tickets